While technology stocks have been profiting on the stock market for several weeks, the oil giant Saudi Aramco has dethroned Apple with a valuation of 2.430 billion dollars.
It is a symbolic passing of the torch. The oil group Saudi Aramco dethroned Apple on Wednesday from the rank of the world's largest market capitalization, while the titles of the Saudi giant were boosted by the recent surge in crude oil prices.
The market capitalization of Saudi Aramco, the Saudi national oil company, reached 2.430 billion dollars on Wednesday, according to Bloomberg figures, slightly exceeding that of the iPhone maker which fell to 2.371 billion.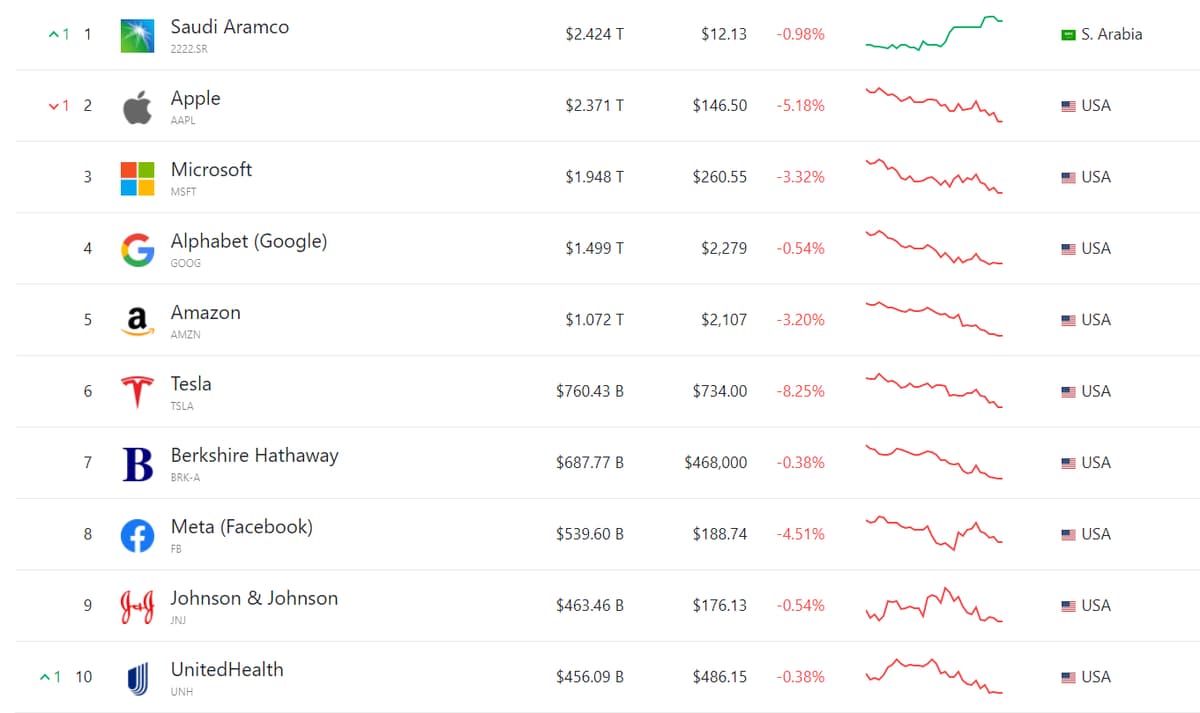 In January, at the peak of the bullish cycle on Wall Street, Apple was the first company in history to cross the threshold of 3,000 billion dollars in market valuation.
But in a highly inflationary and shortage context, investors have favored companies in the energy sectors since the start of the year, to the detriment in particular of technology stocks such as Apple.
The Nasdaq index has thus lost more than 25% since the beginning of the year in the wake of a change in monetary policy by the American Central Bank (Fed) in the face of inflation and the war in Ukraine.
The title of Apple was worth 182 dollars at the beginning of January against 145.50 dollars on Wednesday at the close. The oil giant had already had a higher market capitalization than Apple, between its IPO in late 2019 and July 2020.
Aramco shares, offered on the Riyadh Stock Exchange at the end of 2019, closed at 45.50 Saudi riyals, down 0.98% on the session but up 27% since the start of the year with the rise in prices. crude oil prices which favored energy companies.